Michael Thomsen Blog
Michael Thomsen's blog about phytotherapy (herbal medicine), nutrition, how to improve your healthspan and longevity.
Herbal Medicine Week - Grind your own rosemary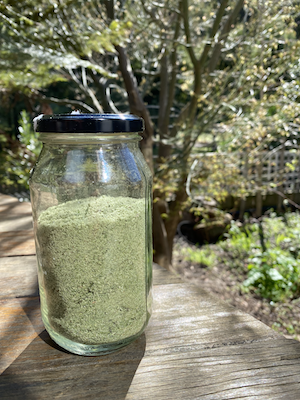 We used to add sprigs of rosemary to our roast vegetables. However, the sprigs are quite woody and you either have to remove the sprigs or, if you want to eat the rosemary, remove the leaves from the woody bits. A few years ago we started to use a spice grinder to grind our own rosemary. I don't know why we didn't do it earlier because the quality of the rosemary powder is phenomenal! This is what we do now:

---
Bottle the rosemary
It will last for several months and the aroma will be just incredible.
Springle on your roast vegetables or meat and the flavour will be something else. You will never be able to go back to adding woody sprigs or, heaven forbids, store purchased rosemary powder!
Just my little tip for Herbal Medicine Week 2021!
#HerbalMedicineWeek
#NHAA #Naturopathy
#WesternHerbalMedicine
#PhytotherapyDeskReference

Stay Informed
When you subscribe to the blog, we will send you an e-mail when there are new updates on the site so you wouldn't miss them.
Comments
No comments made yet. Be the first to submit a comment
Book Review: Phytotherapy Desk Reference
Reviewed by  Mim Beim
My original copy of Michael Thomsen's Phytotherapy Desk Reference is herb-stained and dog-eared. So it was with much excitement that I received the latest edition of this little gem.
The book, as with the previous editions, has been designed not as an exhaustive materia medica but rather as a desk reference for the busy herbalist. It contains short, precise descriptions of 236 of the most commonly used herbs in Australia and New Zealand.
The extensively revised and updated 5th edition of the Phytotherapy Desk Reference
Phytotherapy Desk Reference 5th Edition ISBN: 978-0-646-82443-7 Soft-cover, spiral bound. 200 pages. 233 Monographs.