Michael Thomsen Blog
Michael Thomsen's blog about phytotherapy (herbal medicine), nutrition, how to improve your healthspan and longevity.
Herbal Medicine Week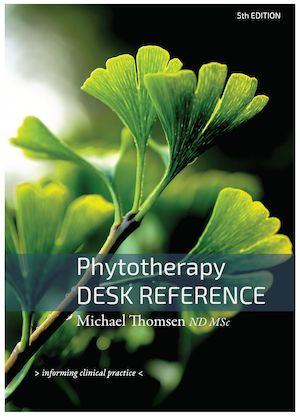 Once a year, in the last week of October, we celebrate all things herbal with National Herbal Medicine Week.
#HerbalMedicineWeek
#NHAA #Naturopathy #WesternHerbalMedicine #PhytotherapyDesk
reference

The aim of this week is to promote herbal medicine to the public, educate people about herbal medicine, share our knowledge and show people the vital role that herbalists play in community health and wellbeing.
Trusted by herbalists for 22 years

200 jam-packed pages: Monographs, therapeutic dosages, actions and indications.
233 Monographs. Includes all herbal extracts used by Australian herbalists! Prescribe with confidence. Explore new options!
This lovely tree grows right outside our bedroom window. It is the first thing we see every morning...
Withania somnifera Clinical Trials Review By Michael Thomsen, MSc, ND
Background
Introduced to Australian practitioners of Western Herbal Medicine in the mid-90s, Withania rapidly became a much-loved herb and is now one of the top selling herb in Australia and even in the UK. Ashwagandha (Withania somnifera) is used in Ayurvedic medicine to promote youthful vigour, enhance muscle strength and endurance, and improve overall health. Ashwagandha's popularity is no doubt related to its use as a relaxing or non-stimulating adaptogen and tonic and because it is considered safe for use in children.
Withania Review
Tandon et al. (2020) published a review of withania, which included studies published up to early 2019 1. No meta-analysis was performed presumably due to a paucity of studies for each condition.
Methods
A systematic search both for indexed and non-indexed literature was made for W. somnifera using various search engines and databases and the details of research articles pertaining to all clinical trials/human studies, animal studies addressing safety issues of CNS, CVS, general toxicity, mutagenicity, genotoxicity, re-productive safety and herb-drug interactions were reviewed and compiled comprehensively from full texts.
Results
A total of 69 (39 pre-clinical and 30 clinical) studies documenting efficacy and safety aspects were identified and the desired information of these studies is comprehensively presented in this review.
Retrieved thirty (30) human studies demonstrated reasonable efficacy of root preparations in:
1.subclinical hypothyroidism (1)
2.schizophrenia (3)
3.chronic stress (2)
4.insomnia (2)
5.anxiety (1)
6.memory and cognitive improvement (2)
7.obsessive-compulsive disorder (1)
8.rheumatoid arthritis (2)
9.type-2 diabetes (2)
10.male infertility (6)
11.fertility promotion activity in females (1)
12.adaptogenic (3)
13.growth promoter in children (3)
14.chemotherapy adjuvant (1)
Reasonable safety of root preparations of Aswagandha has been established by these retrieved 30 human trials.
No serious adverse events or any changes in haematological, biochemical or vital parameters were re-ported in these human studies.
Only mild and mainly transient type adverse events of somnolence, epigastric pain/discomfort and loose stools were reported as most common (> 5%); and giddiness, drowsiness, hallucinogenic, vertigo, nasal congestion (rhinitis), cough, cold, decreased appetite, nausea, constipation, dry mouth, hyperactivity, nocturnal cramps, blurring of vision, hyperacidity, skin rash and weight gain were reported as less common adverse events.
Pre-clinical chronic toxicity studies conducted up to 8 months also found root extracts to be safe.
No mutagenicity or genotoxicity was reported for the root; only mild CNS depression and increase in thyroxine (T4) levels were reported with root by some studies. Further, there was no in-vitro and in-vivo inhibition seen forCYP3A4 and CYP2D6, the two major hepatic drug metabolizing enzymes.
Conclusion
Root of the Ayurvedic drug W. somnifera (Aswagandha) appears a promising safe and effective traditional medicine for management of schizophrenia, chronic stress, insomnia, anxiety, memory/cognitive enhancement, obsessive-compulsive disorder, rheumatoid arthritis, type-2 diabetes and male infertility, and bears fertility promotion activity in females, adaptogenic, growth promoter activity in children, and as adjuvant for reduction of fatigue and improvement in quality of life among cancer patients undergoing chemotherapy. Properly designed, randomized-controlled, large-size, prospective trials with standardized preparations are needed to ascertain efficacy of Aswagandha root in previously studied and other new indications.1
Reference
1.Tandon N, Yadav SS. Safety and clinical effectiveness of Withania Somnifera (Linn.) Dunal root in human ailments. J Ethnopharmacol 2020;255:112768.
Michael Thomsen is herbalist and naturopath. Originally from Denmark, he completed studies in Naturopathy and Herbal Medicine in Sydney, graduating in 1986. Michael specialises in integrative oncology supporting patients with lifestyle and dietary advice, nutritional and herbal medicines and hyperthermia via allied clinics. His company, Eusano Healthcare, has pioneered whole body and local hyperthermia in Australia, importing and distributing ARTG listed medical infrared and hyperthermia devices made in Germany. He has a Master of Science, Graduate School of Integrative Medicine, Swinburne University and is currently a PhD scholar at Sydney University Medical School. Michael is researching chemotherapy-induced mucositis, intestinal dysbiosis and the possible role of probiotics as adjunct medicines in cancer care. Michael has extensive industry experience as past technical manager of leading herbal medicine companies in Australia.
He is the author of the popular Phytotherapy Desk Reference now in its fifth edition having sold 10,000 copies worldwide. www.phytotherapydeskreference.com
Stay Informed
When you subscribe to the blog, we will send you an e-mail when there are new updates on the site so you wouldn't miss them.
Comments
No comments made yet. Be the first to submit a comment
Book Review: Phytotherapy Desk Reference
Reviewed by  Mim Beim
My original copy of Michael Thomsen's Phytotherapy Desk Reference is herb-stained and dog-eared. So it was with much excitement that I received the latest edition of this little gem.
The book, as with the previous editions, has been designed not as an exhaustive materia medica but rather as a desk reference for the busy herbalist. It contains short, precise descriptions of 236 of the most commonly used herbs in Australia and New Zealand.
The extensively revised and updated 5th edition of the Phytotherapy Desk Reference
Phytotherapy Desk Reference 5th Edition ISBN: 978-0-646-82443-7 Soft-cover, spiral bound. 200 pages. 233 Monographs.