Michael Thomsen Blog
Michael Thomsen's blog about phytotherapy (herbal medicine), nutrition, how to improve your healthspan and longevity.
Hepatic Oestrogen Receptors and Weight Gain In Menopause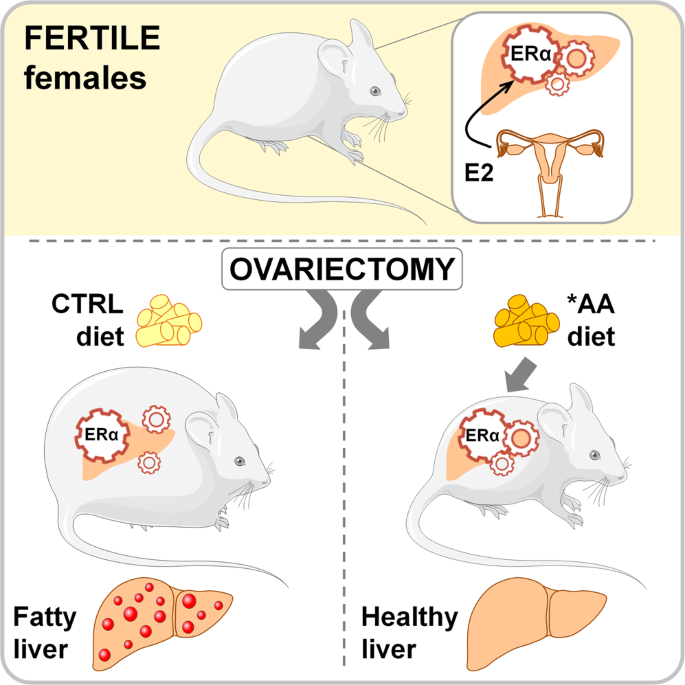 Animal studies have shown that ovariectomy is associated with weight gain and fatty liver.
During the reproductive years, high plasma content of oestrogens is associated with the blockade of de novo lipid synthesis and changes in lipid transport, with increased clearance of LDL (low-density lipoproteins) and VLDL (very low-density lipoproteins), synthesis of HDL (high-density lipoproteins), changes of lipoprotein modifiers and liver receptors for lipoproteins.
All of these protective effects are abolished by the selective ablation of the hepatic Erα in the animal models (hepatic α-ER knock-out or LERKO mice).(Della Torre, Benedusi et al. 2021)
A diet enriched in essential amino acids, especially in branched-chained amino acids (BCAA), has been shown to largely overcome the hepatic lipid metabolic imbalance induced by lack of oestrogenic signalling and prevent lipid deposits. Illustrated in the figure from the article (Della Torre, Benedusi et al. 2021)
The amino acid diet restored liver metabolic homeostasis.
This is an animal study, however, it suggests that the amino acid diet could help reduce fatty liver and weight gain in menopausal women.
A diet high in BCAAs has been shown to be associated with a decreased risk of becoming overweight or obese.
The Intermap study found that higher dietary BCAA intake is associated with lower prevalence of overweight status/obesity among apparently healthy middle-aged adults from East Asian and Western countries (Qin, Xun et al. 2011).
The branched-chain amino acids (BCAAs), leucine, isoleucine and valine, are primary metabolites synthesized in plants and are essential nutrients in animals.
Food sources:
Whey, milk, and soy proteins
Corn
Beef, chicken, fish, and eggs
Baked beans and lima beans
Chickpeas
Lentils
Whole wheat
Brown rice
BCAA supplementation is also available.
Unfortunately, supplementation with BCAA can be cause side effects associated with an increased level of ammonia and urea (Holeček 2018). Prescribe with caution.
References
Della Torre, S., V. Benedusi, G. Pepe, C. Meda, N. Rizzi, N. H. Uhlenhaut and A. Maggi (2021). "Dietary essential amino acids restore liver metabolism in ovariectomized mice via hepatic estrogen receptor α." Nature Communications 12(1): 6883.
Holeček, M. (2018). "Branched-chain amino acids in health and disease: metabolism, alterations in blood plasma, and as supplements." Nutrition & Metabolism 15(1): 33.
Qin, L. Q., P. Xun, D. Bujnowski, M. L. Daviglus, L. Van Horn, J. Stamler, K. He and I. C. R. Group (2011). "Higher branched-chain amino acid intake is associated with a lower prevalence of being overweight or obese in middle-aged East Asian and Western adults." J Nutr 141(2): 249-254.
Stay Informed
When you subscribe to the blog, we will send you an e-mail when there are new updates on the site so you wouldn't miss them.
Comments
No comments made yet. Be the first to submit a comment
Book Review: Phytotherapy Desk Reference
Reviewed by  Mim Beim
My original copy of Michael Thomsen's Phytotherapy Desk Reference is herb-stained and dog-eared. So it was with much excitement that I received the latest edition of this little gem.
The book, as with the previous editions, has been designed not as an exhaustive materia medica but rather as a desk reference for the busy herbalist. It contains short, precise descriptions of 236 of the most commonly used herbs in Australia and New Zealand.
The extensively revised and updated 5th edition of the Phytotherapy Desk Reference
Phytotherapy Desk Reference 5th Edition ISBN: 978-0-646-82443-7 Soft-cover, spiral bound. 200 pages. 233 Monographs.